Most agree that camellias produce some of the most showy and stunning flowers you can grow. There are two main groups to be aware of: spring-blooming varieties and fall-blooming varieties. Spring bloomers often have larger flowers and a more full form with multiple layers of petals. Fall bloomers tend to have a more open habit with one or two rows of petals. Most camellias prefer morning sun and afternoon shade or bright dappled light, but fall-bloomers can often tolerate more sun. They are also less susceptible to freeze damage on the blossoms. Most spring bloomers flower between February and March and their flowers are occasionally damaged by late winter frosts and freezes.
We offer a great selection of locally-grown 3 gallon Camellias, produced by the best Camellia grower in the area (just above Greensboro, NC).
Larger, 7 gallon and 15 gallon plants may be available by special request if available from our growers; please call for details or if you are looking for a specific variety.
You can contact our Assistant Nursery Manager, Christina, with any Camellia questions. Call (919) 847-0117 or email
christina@homewoodnursery.com
Hover over the images below to see each flower's name. (These may not render on phone screens.) Click on a thumbnail to see a larger image. All of the images shown were taken here at Homewood Nursery and at the JCRA Camellia Show!
Spring-Blooming Camellias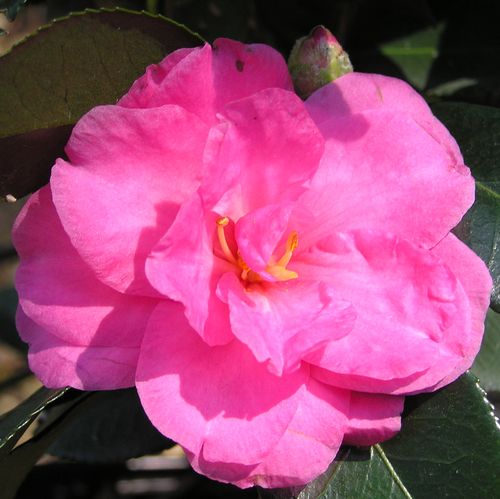 These varieties may be available by special request.
Please call for actual availability
Adeyaka
Altheaiflora
Autumn Mist
Berenice Boddy
Bright Eyes
Captain Folk
Covina
Cinnamon Scentsation
Cream Puff
Dorothy Zerkowsky
Flame
Fran Mathis
Gay Baby
Gigantea
Grape Soda
Greensboro Red
Helen Bower
Herme White
In The Pink
J. Stewart Howard Var.
King's Ransom
Kramer's Beauty
Kramer's Supreme
La Peppermint
Lady Clare Var.
Lady Laura Red
Lemon Glow
Mister Sam
Moonlight Bay
Mrs. Bertha A. Harms
Nina Avery
Omega
Pink Parade
R.L. Wheeler
Reg Ragland Supreme
Rose Hill Red


Royal Intrigue
Scentsation
Simeon
Snow Chan
Tama-ikari
Tom Knudsen
Turandot
Victory White
White Empress