STORE HOURS:
Open 9am-6pm, Mon-Sat. Closed Sundays
Scroll down to check out our different departments and the services we offer!
"I have shopped at Homewood for flowers and bushes at least 20 times over the past three years that I've been living here in Raleigh, and I have never been disappointed. Very high quality plants, very friendly and helpful service, great selection, and a relaxing, pleasant atmosphere to shop for plants, as it seems more like an outdoor botanical garden. Superb! "
- John Pucher (Google Review)
"The knowledge and time that the employees take to work with me are really helping to improve an area of my yard that really needs it. " -Bruce Cartier (Google Review)
"Great place to browse, find hard to find items, and get great service. Huge variety of plants, furnishings, trees, and so much more. We love coming here for the variety. " - Chris Shearer (Google Review)
Don't feel like digging a lot of holes or one really big one? We offer planting through our sister company, Landvision Designs.
Let Homewood design and plant your container gardens! We can come to you for the full-service experience or you can bring us your empty pots, and we will custom design fabulous container gardens for you.
Let us bring the difficult-to-handle plants and pots to you!
Get to know more about what makes us different.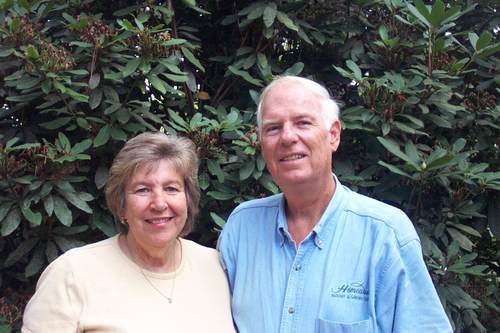 Homewood's Founders, Bill & Peggy Stoffregen
Homewood is recognized as a leader in the horticulture industry and has been featured in local, state, and national publications. Our unique combination of over 4 acres of greenhouses, garden center, and a park-like outdoor nursery department make it a destination for both local and out-of-state visitors, as do our knowledgeable, friendly staff and excellent selection of plants. The greenhouses and nursery department are regularly toured by university horticulture classes and have been a learning ground for many students.
What we really hope sets us apart are our core values that we try to practice every day:
Customers - There is only one boss – the customer. We will listen and serve in a manner that
consistently produces delighted customers.
Faith & Family - We are closed Sundays to allow our staff time with family and for spiritual renewal.
Our People - We are dedicated to hiring excellent staff and treating them well and with respect.
We will also provide the necessary resources and training for them to succeed.
Quality - We will provide our customers with the two dimensions of quality; quality of
product and quality of service. Both will be at a standard that will make our staff
proud to work at Homewood.
Knowledge - We will provide our customers with the knowledge needed to be successful gardeners.
We provide answers to customers' questions and recommend the best plants for their needs.
Integrity - Character does matter. Our honesty and integrity in all situations must not be compromised.
Fun - We provide products that beautify homes, workplaces, and landscapes.
Our customers have an innate desire to work with their hands; to grow things;
to feel connected to nature. We have the privilege of meeting that need.
Sign Up For Text Alerts for Sales & Events!