We are open for in-store shopping!
Our store hours are 10am-5pm, Mon-Sat. Closed Sundays.
The NC Department of Agriculture and Consumer Services has determined that nurseries & garden centers
are a part of critical infrastructure in accordance with guidance from the Department of Homeland Security.
Some measures Homewood is taking in response to COVID-19:
- Practicing and reinforcing social distancing guidelines of 6 feet
- Increased sanitation and hygiene of common areas and surfaces
- Posting and encouraging aggressive hygiene practices such as hand-washing and disinfection of communal surfaces
- Disposable gloves and face masks for cashiers, wagon-pullers, and any employee who wants them
- We have asked employees who are sick to remain at home, and, not to return until they have their doctor's approval and no longer have a fever
- Those employees who have sick family members are being asked to remain at home for 14 days
- We are closely following information being given by the governor and CDC
- We respect any employee who prefers to remain at home
- Full-time and part-time permanent employees will receive compensation for time out due to illness
Scroll down to check out our different departments and the services we offer!
"I have shopped at Homewood for flowers and bushes at least 20 times over the past three years that I've been living here in Raleigh, and I have never been disappointed. Very high quality plants, very friendly and helpful service, great selection, and a relaxing, pleasant atmosphere to shop for plants, as it seems more like an outdoor botanical garden. Superb! "
- John Pucher (Google Review)
"The knowledge and time that the employees take to work with me are really helping to improve an area of my yard that really needs it. " -Bruce Cartier (Google Review)
"Great place to browse, find hard to find items, and get great service. Huge variety of plants, furnishings, trees, and so much more. We love coming here for the variety. " - Chris Shearer (Google Review)
Get to know more about what makes us different.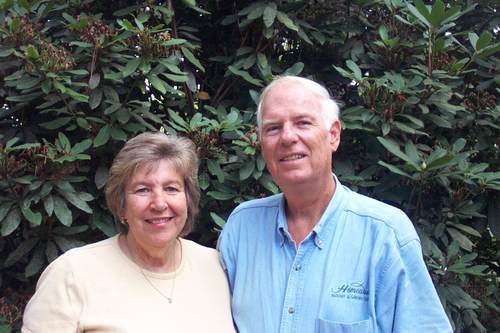 Homewood's Founders, Bill & Peggy Stoffregen
Homewood is recognized as a leader in the horticulture industry and has been featured in local, state, and national publications. Our unique combination of over 4 acres of greenhouses, garden center, and a park-like outdoor nursery department make it a destination for both local and out-of-state visitors, as do our knowledgeable, friendly staff and excellent selection of plants. The greenhouses and nursery department are regularly toured by university horticulture classes and has been a learning ground for many students.
What we really hope sets us apart our our core values that we try to practice every day:
Customers There is only one boss – the customer. We will listen and serve in a manner that
consistently produces delighted customers.
Faith & Family We are closed Sundays to allow our staff time with family, and for spiritual renewal.
Our People We are dedicated to hiring excellent staff and treating them well and with respect.
We will also provide the necessary resources and training for them to succeed.
Quality We will provide our customers with the two dimensions of quality; quality of
product and quality of service. Both will be at a standard that will make our staff
proud to work at Homewood.
Knowledge We will provide our customers with the knowledge needed to be successful gardeners.
We provide answers to customers' questions and recommend the best plants for their needs.
Integrity Character does matter. Our honesty and integrity in all situations must not be compromised.
Fun We provide products that beautify homes, workplaces, and landscapes.
Our customers have an innate desire to work with their hands; to grow things;
to feel connected to nature. We have the privilege of meeting that need.
We grow many of the plants we sell including flowering annuals, houseplants, vegetables, and, most famously, poinsettias. Many who visit in spring are unaware of the 35,000 poinsettias we grow in our for the holidays, and the wonderful holiday photo ops you can find in the poinsettia-filled greenhouses.
Homewood's mission is to be committed to providing the finest quality plants and service in a beautiful and relaxing atmosphere.
Sign Up For Text Alerts for Sales & Events!