Here comes fall! Pumpkins, pansies, mums, fall veggies and more. Check here for details on our upcoming fall events or sign up for our emails or text "Homewood" to 77948 to sign up for text alerts!
Fall is a great time to plant cold hardy plants such as trees, shrubs, and perennials. In fall, these plants put on the most amount of root growth for the year. Winter provides a rest to the plant, and, in spring, there is another small burst of root growth. All this happens before a plant ever has to go through a Carolina summer which is why it is easier for them to get established when planted in fall.
So, start planning your fall plantings and get ready for our Fall Plant Sale! We will be stocked up and will have fresh shipments throughout the sale. Our friendly, knowledgeable staff are here to help you pick the right plants for your landscape.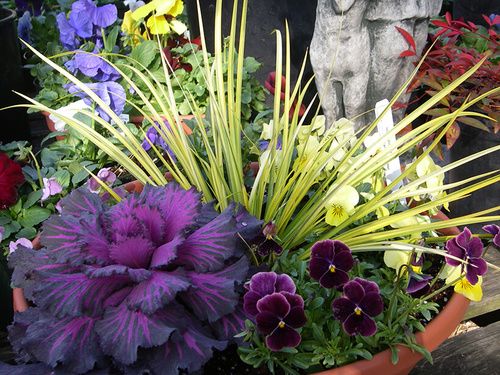 Fall container gardens
dress up the doorway and look great with pumpkins and gourds clustered around them. You can also
use them as focal points of color
on sunny porches and patios or even as a focal point in a garden bed.
Mums, pansies, golden sweet flag
, and
ornamental cabbages and kales
together with certain tropical plants such as
croton
and perennials with colors that go well with fall themes such as
heuchera
and
ornamental grasses
make pretty and colorful combinations that extend the gardening season through fall. You can create your own combinations using our selection, find pre-made containers in stock, or have a
custom container designed for you
!
Rent Boston ferns for your next event.
Having a special event? RENT HOMEWOOD BOSTON FERNS!
No one grows big, fat, AWESOME Boston Ferns like Homewood does, and now you can rent them for events! Boston Ferns add that serene green energy to parties, weddings, home showings, and more. Delivery and pick up available. Call us at (919) 847-0117 for more details!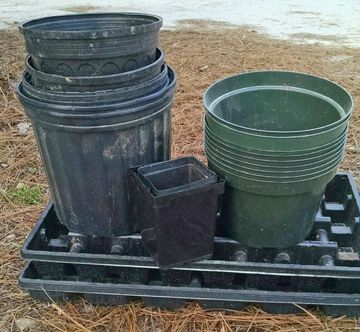 Folks, you don't even KNOW how long we've been wanting to offer recycling services for plastic nursery pots and trays! Forever it seems. But, we never could find a service that could accommodate us. Well, times have changed thankfully!
HERE ARE THE DETAILS:
Bins are located in the corner of our asphalt parking lot
- NO PLASTIC BAGS, PLEASE!
- If you bring pots in bags, please remove them from them before putting the pots in the bins.
- Please REMOVE AS MUCH DIRT as is reasonable. They don't have to be completely dirt-fee but dump out the excess.
- Remove labels
Get excellent gardening info at your fingertips with Dr. Dr. Allan Armitage's app!
Armitage's Great Perennials & Annuals
is a tool we at Homewood Nursery have wanted to provide for a long time. For both Apple and Android, the app
covers hundreds of plants, has over 400 pictures, and over 50 videos
. We strongly recommend it for all of our customers because it provides
easy-to-read information on many of the plants available in our store
and suggests the best variety for hundreds of plants backed up by years of personal and professional experience
. A "deer browsing" rating is provided
for almost every species, as well, something most gardeners around here really need! Pretty awesome deal for $4.99!
Just search "Armitage" in the App Store!