It's a great time to plant hardy plants such as shrubs, trees, and perennials before the heat of summer sets in! Our friendly, knowledgeable staff are here to help you select the right plants for your landscape. We'll have great selection with fresh shipments through the sale.
Food Trucks at Homewood This Spring
Every Saturday in March, every Friday in April and May, and every Saturday in June. Stay tuned for details!
Rent boston ferns for your next event!
Having a special event? RENT HOMEWOOD BOSTON FERNS!
No one grows big, fat, AWESOME Boston Ferns like Homewood does, and now you can rent them for events! Boston Ferns add that serene green energy to parties, weddings, home showings, and more. Delivery and pick up available. Call us at (919) 847-0117 for more details!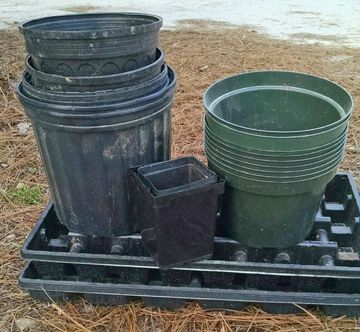 Folks, you don't even KNOW how long we've been wanting to offer recycling services for plastic nursery pots and trays! Forever it seems. But, we never could find a service that could accommodate us. Well, times have changed thankfully! 
HERE ARE THE DETAILS:
Bins are located in the corner of our asphalt parking lot
- NO PLASTIC BAGS, PLEASE!
- If you bring pots in bags, please remove them from them before putting the pots in the bins.
- Please REMOVE AS MUCH DIRT as is reasonable. They don't have to be completely dirt-fee but dump out the excess.
- Remove labels
Get excellent gardening info at your fingertips with Dr. Dr. Allan Armitage's app!
Armitage's Great Perennials & Annuals
is a tool we at Homewood Nursery have wanted to provide for a long time. For both Apple and Android, the app
covers hundreds of plants, has over 400 pictures, and over 50 videos
. We strongly recommend it for all of our customers because it provides
easy-to-read information on many of the plants available in our store
and suggests the best variety for hundreds of plants backed up by years of personal and professional experience
. A "deer browsing" rating is provided
for almost every species, as well, something most gardeners around here really need! Pretty awesome deal for $4.99!
Just search "Armitage" in the App Store!